O f f i c i a l  E v e n t
---
---
In support of the SGF & Boys' Town Sanctuary Care
---
Any Movie during
the Event Period
---
1st March 2021 to
28th February 2022
---
Any Cathay Cinema!
(*Terms & Conditions apply)
---
This Charity Movie will not just support the St Gabriel's Foundation, but Boys' Town Sanctuary Care as well!
Sanctuary Care is a community respite care service by Boys' Town to safeguard the welfare of vulnerable children. We provide temporary care and shelter to infants and young children who require out-of-home care within a family-based environment. These children come from families who are experiencing difficulties and are unable to care for them for a short period of time.
---
More on Boys' Town Sanctuary Care
Click here for more information on our service!
...or continue reading on for more information about the SGF Charity Movie!
---
You may have received an EDM similar to the one shown below (or you may have been directed from the EDM to this page):
---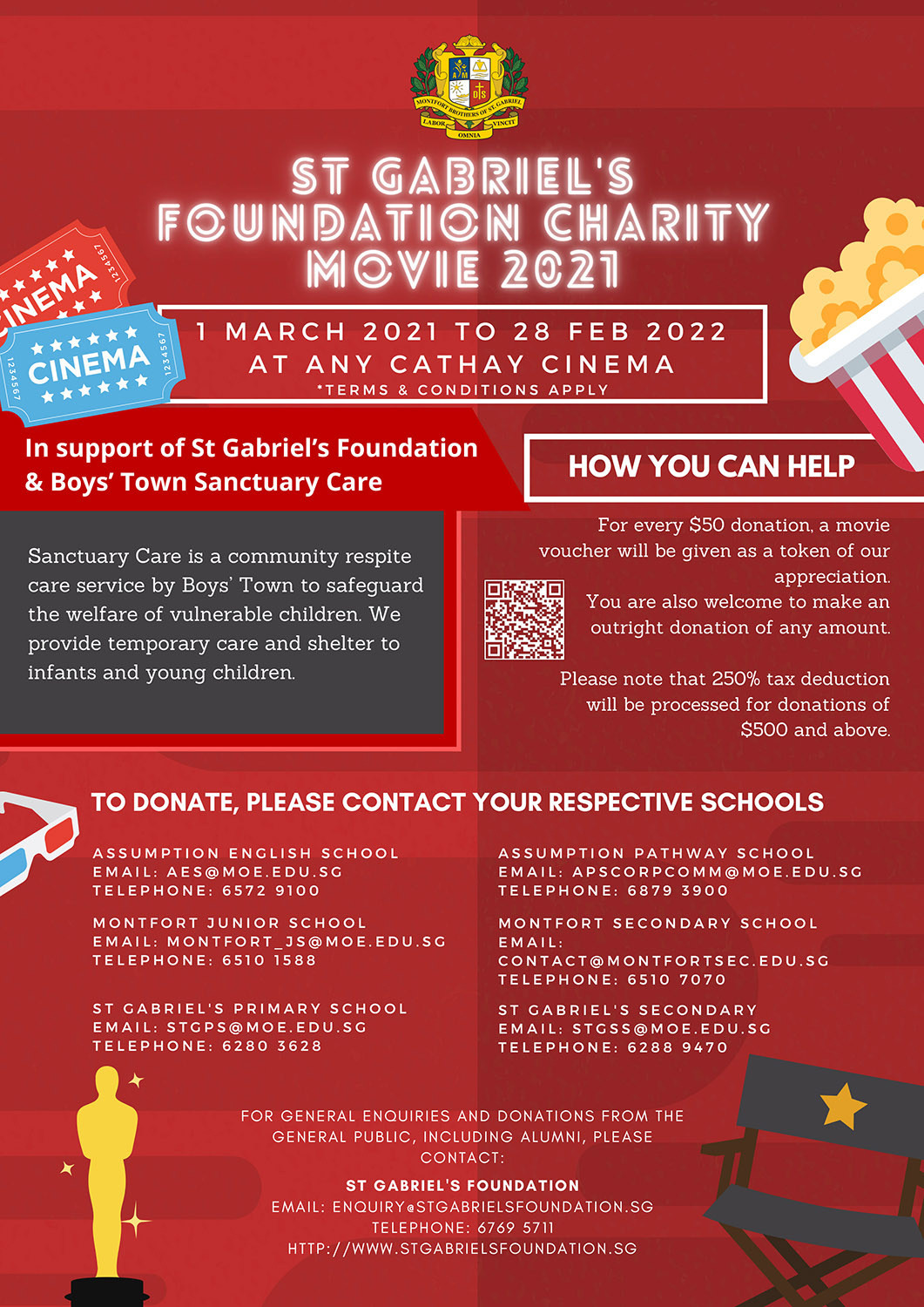 ---
---
---
For every $50 donation, a movie voucher will be given as a token of our appreciation.
You are also welcome to make an outright donation of any amount.
Please note that 250% tax deduction will be processed for donations of $500 and above.
Key points to note
- 1 voucher entitles you to 1 screening at any Cathay Cineplex in Singapore only
- Voucher is valid until expiry date stated on the voucher
- Can be redeemed from manned counters and self-service kiosks in the cinema
- Can be used from Monday to Sunday, including Eve of Public Holiday and Public Holiday
- Not valid for 3D, Tamil, Hindi, Special-Priced, Movie Marathons, Film Festivals, Special Previews & The Platinum Movie Suites tickets
*  For full terms and conditions, please refer to the voucher.
---
To make a donation and participate in this event, please contact your respective schools with the information provided below:
---
St Gabriel's Primary School
Email: stgps@moe.edu.sg
Telephone: 62803628
Email: montfort_js@moe.edu.sg
Telephone: 65101588
Assumption English School
Email: aes@moe.edu.sg
Telephone: 65729100
St Gabriel's Secondary School
Email: stgss@moe.edu.sg
Telephone: 62889470
Montfort Secondary School
Email:contact@montfortsec.edu.sg
Telephone: 65107070
Assumption Pathway School
Email: apscorpcomm@moe.edu.sg
Telephone: 68793900
If you are not affiliated to any of these schools and would still like to participate, please proceed on below for more information to contact us.
Other Enquiries and Donations from Public
---
For General Enquiries
and donations from the general public, including Alumni,
please contact us at:
enquiry@stgabrielsfoundation.sg
or call us at 67695711. Or, you may use the form below:
---